CloudVantage for

Enterprise Optimization & Governance
Protera CloudVantage is a comprehensive management platform combining automation, monitoring, and AI for enterprise workloads on AWS, Microsoft, and Google Cloud.
Enabling transparency and peace of mind
Combining automation, visibility, and comprehensive IT governance in one easy-to-use management platform, Protera CloudVantage enables the best operating experience by eliminating the 'black-box, monolithic' management' of the past.
Taking Enterprise Management to the Next Level
You expect visibility, trust, security, and cost efficiency. Combining Protera's 25 years of managing SAP and enterprise workloads with our deep hyperscale partner engineering relationships, Protera CloudVantage was built to centralize cloud management tools, processes, and insights with visibility for all stakeholders.
Our internal teams
leverage
a
utomation-backed frameworks
to discover, configure, and build
hundreds
of servers with the right standards, compliance, and regulations the first time
, every time
.
IT
operations and management have o
n-demand
, anytime
access to a centralized
view
of
evolving cloud computing environment
s,
including performance
metrics
SLAs
,
change management
,
and
security
monitoring
.
Service management and operational
insights tailored for leadership clarity for overall system, finance, and security perspective on enterprise workloads in the cloud managed by Protera
Enterprise Operations Management: Simplified
Consistent delivery methods backed by automated discovery assessment, and deployment of enterprise workloads on the cloud monitored continuously for governance and cost optimization opportunities.
Full visibility into day-to-day cloud environment and workload operational metrics, change controls, system health and hygiene, including:
SAP request catalog, such as refreshes and transports

Current patch compliance

Performance monitoring

Confirmation of successful backup enrollment and status
Simplified

Case, Reques

t,

and

Change Management
Submit cases and requests through a simplified support catalog. Review and approve change management requests in a calendar view. Coalesce ticket updates into a single activity stream.
Valuable CMDB Visualization

s

& Metrics
Comprehensive list of managed services assets, from virtual machines to applications and network devices. Detailed information includes:
Hypervisor CPU

/memory

utilization

Network throughput




Disk IO OPS




Packet transmission

Patch compliance




Backup compliance

Health scores
Have full visibility into the management and monitoring of your cloud environment through automated alerts, security events, and vulnerability reports.
AI

Driven Continuous

Optimization
Rest assured knowing that AI backed toolsets are built into CloudVantage, providing insights for cost optimization opportunities to drive down cloud spend and maximize performance throughout the lifecycle of your environment.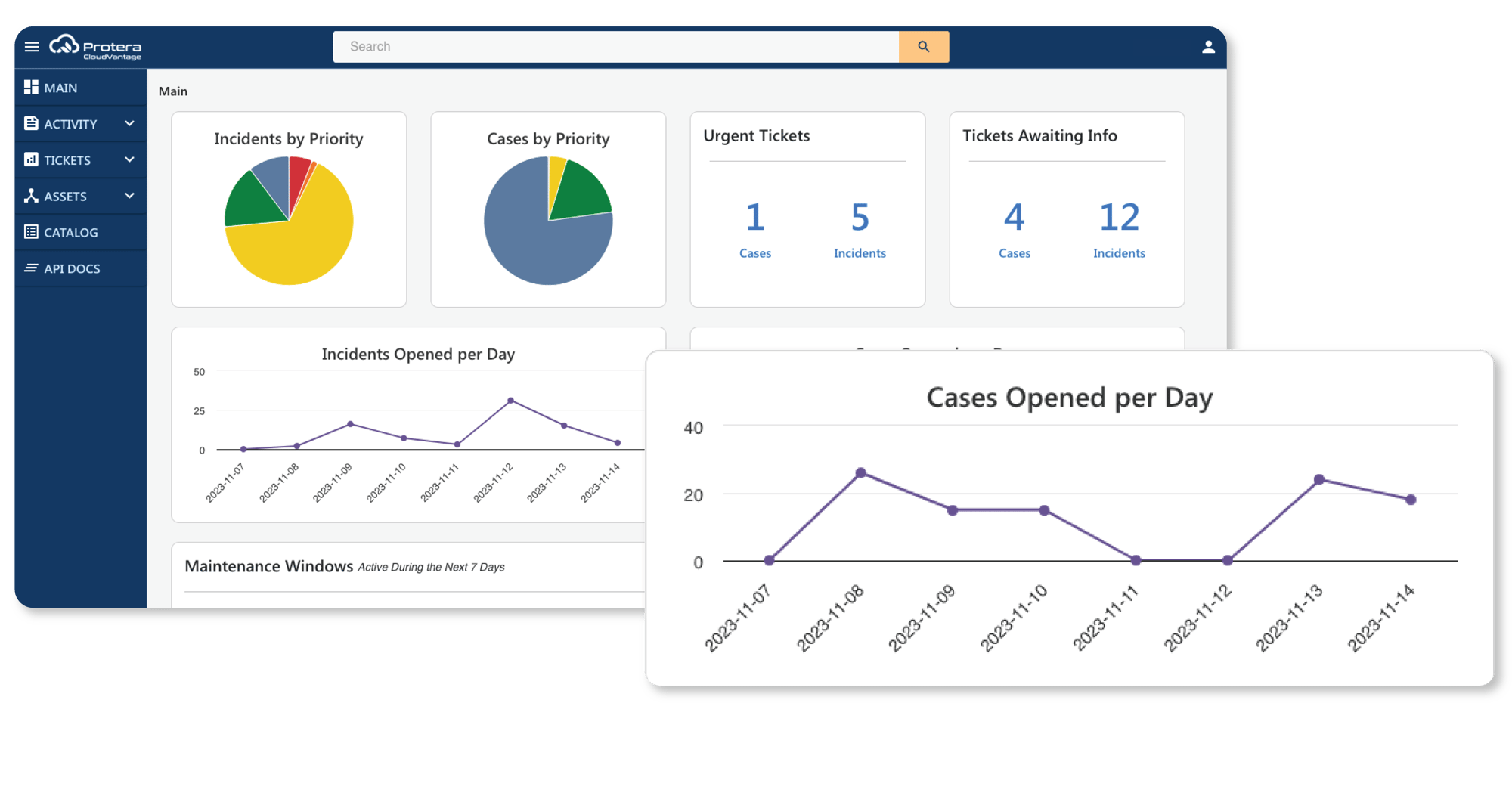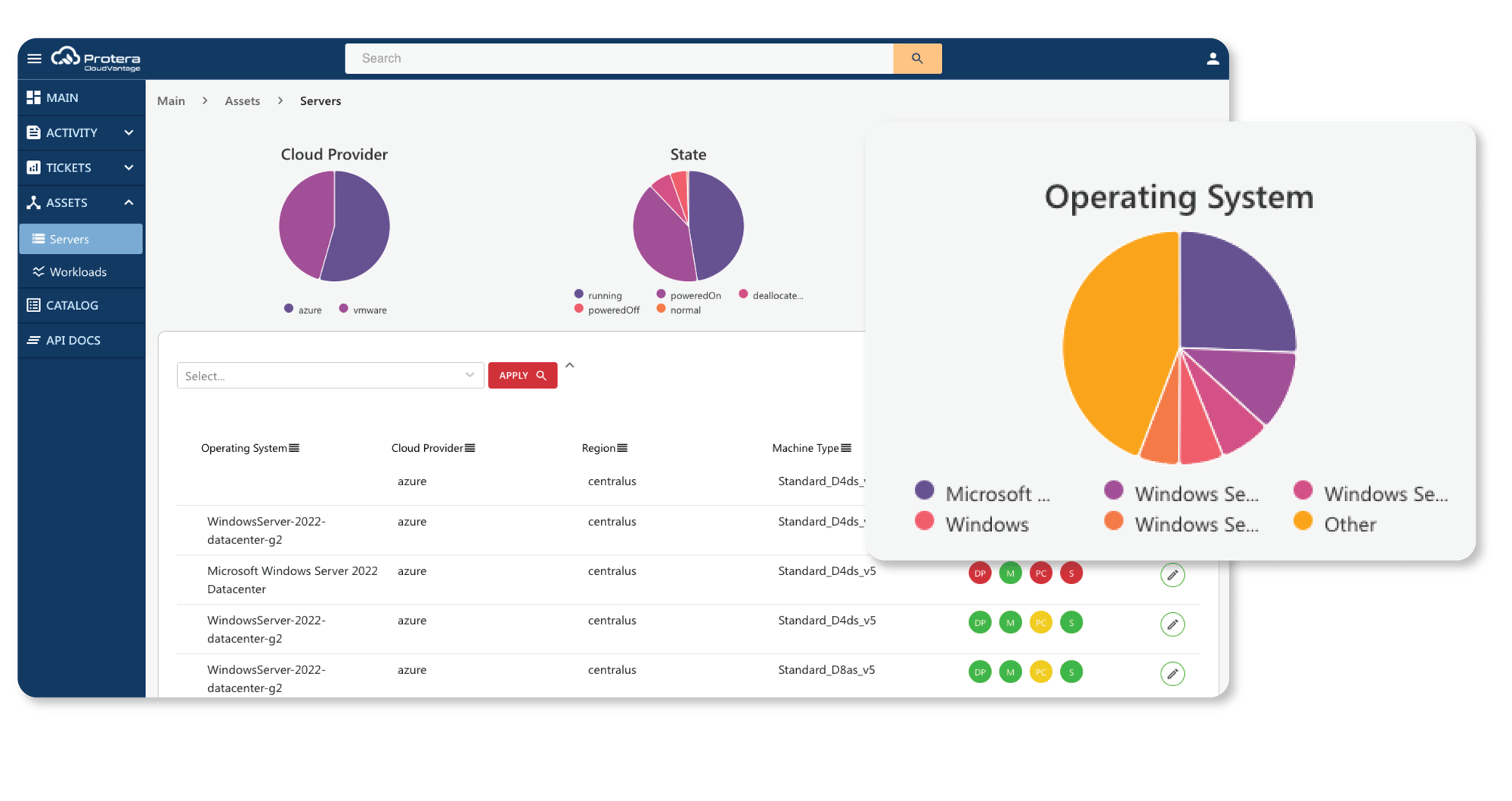 Upgrade your managed service provider today.
Schedule a demo of Protera CloudVantage with an enterprise expert.